We've got only about a week left to our Vermont stop, and then we'll be off again. We've been talking on and off about plans for the next year, but they have been rather loose. As usual, we're mostly winging it. We know that we want to end up in Tucson sometime in October, and we've got stops in Denver and a few other cities. The details have been left vague until today.
For trip planning I find Google Maps to be extremely useful. You just click the "Get directions" link and then input the zip code or city/state of the start and end points. Additional stops can be easily added, and Google has a really neat feature which allows you to drag the suggested route to explore alternative routings. The total distance and estimated time is instantly calculated for each possible route.
In about five minutes this morning I put together this plan for our first week on the road. We're eyeballing stops in Herkimer NY, Cazenovia NY, Limestone PA, Lagrange OH, and Jackson Center OH. No big towns on this trip! We might add in a visit to Corning NY to see the Corning Glass Museum again too, or maybe Letchworth State Park or Allegany State Park.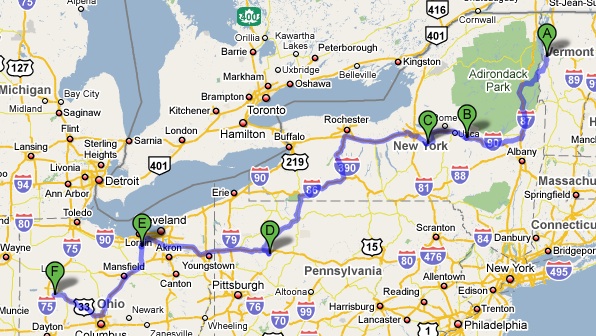 The plan is not finalized but I love how easy it is to play around with stops and routes using Google Maps. It allows me to get creative about our trip planning. With a list of cities for people we know (or want to meet), we can see who is within reasonable reach. Sometimes the most wonderful coincidences arise, bringing us to friends we didn't think we'd see. That's when technology really starts to make a difference.
Speaking of creativity, I want to show you some of Emma's recent artwork. She has recently been working with some polymer clay called Sculpey. I may just be another overly proud parent, or perhaps easily impressed because I am not competent at artistic things, but when I saw the miniatures she was creating (out of her own head, no books or pictures), I was blown away.
(Click for larger views.) These little figures are about 1″ long each (the unicorn is about 2 inches). They are intricately detailed with colors (like the striped horn on the unicorn), and textures that she applies with a toothpick. What freaks me out is that nobody told her what to make, or how to make it. She just got hold of this clay and starting making them. The middle one is an Orca whale splashing out of the water with a wave behind it. The action of it reminds me of a Remington bronze.
The things that come out of kids' heads are amazing, in what they do and what they say. It's the kind of creativity that adults often pooh-pooh when they see it, and then spend their adult lives trying to recapture. Anyone in a creative business could do well to think more like a kid. That includes me.