We're on the road from Jackson Center OH heading west. Our last meetings wrapped up at 11:30 this morning. We packed up, topped off the propane, dumped the tanks, filled the fresh water and took on 14 gallons of regular unleaded.
In this phase of our travel, fuel is by far the largest expense. Over the next few days we'll cover about 1200 miles to Denver, which will cost about $450 in fuel at current prices. Anticipating this, I switched credit cards a month ago to cut the cost.
Many gas station chains have credit cards that give you a discount of 3% to 5% on fuel, but they only work at their gas stations. Since we travel nationwide, that's not very useful to us. In Tucson the predominant gas chain is Circle K, in Ohio we see a lot of Speedways, out west we see BP and Sinclair and ARCO, in some places we see Texaco and Shell, or the big boys: Exxon and Mobil. It's impractical to carry a card for each individual chain, so I found a card that gives me a discount at all of them.

The card I chose is the American Express "SimplyCash Business Card." I think they have a similar one for consumers called BlueCash. I use it to pay for all our fuel, and I get 5% (not five cents, but percent) rebated to me on the next credit card statement. So the gas at Marathon that was posted at $3.75 per gallon really costs us $3.56. No matter where we go, we're getting the cheapest gas in town.
Five percent isn't a huge amount, but it feels good to save anything on gas these days. We typically save $2-3 per fillup. Hey, every bit counts.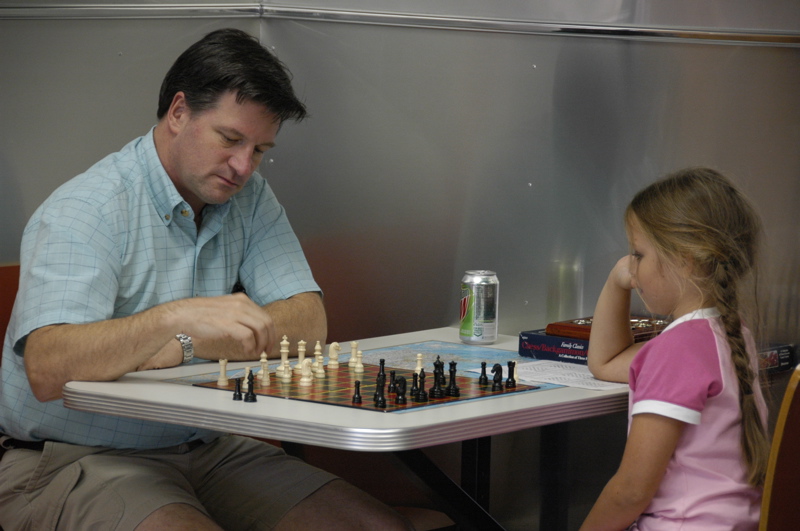 Brett gives Emma her first chess game in the Airstream service center
Rob Baker (of The Vintage Airstream Podcast) and family pulled into Airstream's Terra Port as we were readying to depart. Rob has a very nicely restored 30-foot 1958 Airstream Sovereign Of The Road. I got a quick peek inside before we had to go. Beautiful Zolatone paint inside, Marmoleum floor, and birch cabinetry. Since they've never been to Jackson Center before, we gave them the quick rundown on things to do in town (and a few places to avoid). It would have been fun to stay another day with Rob, Zoe, and the kids, but the road was calling.
Tonight we are doing our usual cheapskate thing on long drive days: the scenic Wal-Mart Supercenter off I-70 in Illinois. I'm amazed we made it this far given how late we left, and also considering that I now have a cold. I don't want to name names, but a certain visitor to our trailer from Florida whose initials are BG seemed to have brought it with him. He lost his voice entirely yesterday and spent the day whispering through all our meetings, and today I am sharing the joy with a sore throat, headache, and congestion. Still, with some Tylenol and Sudafed we made it over 300 miles. Tomorrow we have another long-ish day planned, and then we'll slow down for a while to explore some of Kansas.