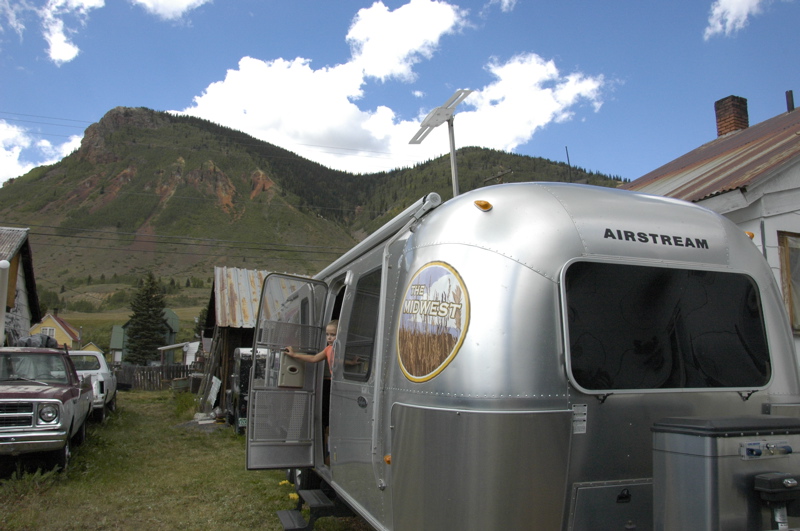 From our campsite in Silverton, "it's up, to anywhere," according to Mike. That's because we are sitting in the small valley ringed by mountains of 11,000 to 12,000 feet. It may look like we are in the lowlands, but our elevation is still high enough to mess with the cooking (9,400 feet). We parked are in the middle of a flat spot just big enough for the tiny town of Silverton, a narrow-gauge railway, a river, and not much else.
If nothing else, the air would tell me that we are at high altitude. When the sun is shining through the thin atmosphere, it feels very warm, but the moment it ducks behind a cloud there's a chill. Nighttime low temperatures are in the 30s right now, and sunlight is limited by the high mountains. In the winter, Mike says, the sun rises twice: shortly after coming up it slides behind a mountain and comes out again later.
Everything around the Airstream says we're in an old western mining town. There are rusty metal pieces and concrete foundations left behind by miners, and mountains scarred from tailings and avalanches. The main street has old hotels and the remains of a once-thriving "red light" district. There is no consistency in architecture, and no sense of enforced historic preservation. The mere fact of utility has kept buildings in place: if it hasn't burned down or collapsed under the snow load, why change it? We certainly aren't in Telluride.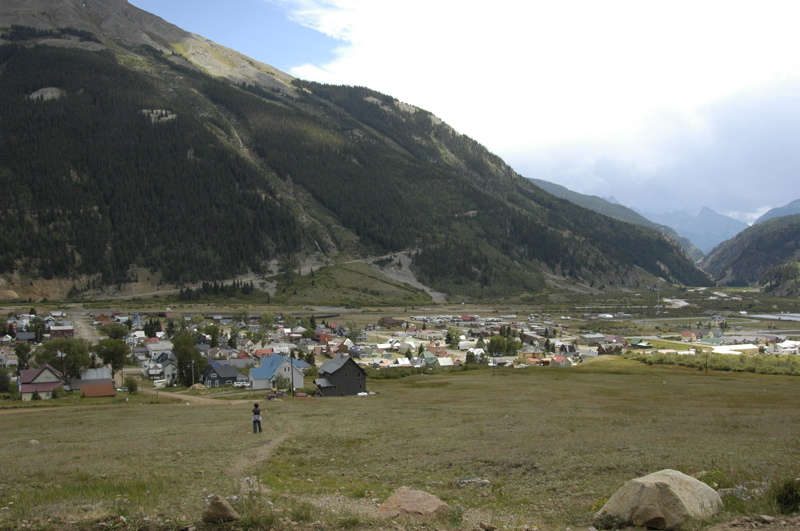 Silverton has two paved roads. One is the highway that brought us here, and which continues on to Ouray. The other is the main street of town, where we are parked. When the snow is deep, snowmobiles are the fastest way to get around.
It's a relatively quiet main street because it doesn't go anywhere. At one time the locals had a sign at the end of the street that said something like, "This isn't the way to Ouray." Lost tourists have to make a U-turn. The rest of the streets are dirt, giving the town a very western rural look.
This morning Mike took us on a tour of the area in his 4WD Isuzu Trooper. Seeing town doesn't take long, but as with all the funky western towns, there are lots of little details hidden in the corners and stories to be told about the people and events that make the town interesting. And it is a very small town: the local school had 40 students (including grade school and high school) and a graduating class of 1 last year. So everyone seems to know everyone else, and if they don't, they wave anyway.
There's a narrow-gauge railroad that runs from Durango to Silverton, along approximately the same route that we just towed on Thursday. The train comes into Silverton twice a day, so we went over to watch it go by. I'd be tempted by the ride, but it takes several hours to make the round-trip, and the drive over is still too fresh in my mind.
Being a dyed-in-the-wool rockhound, Mike knows all the spots to find various minerals. He also knows Emma loves hunting for rocks, so a large part of our tour involved stopping at old mining sites and whacking rocks with hammers. They found some big pieces of rhodonite, but struck out on finding a good sample of "peacock copper." It wasn't all rocks, though. Mike was good enough to give a fair bit of mining and settlement history as we walked around the ruins of stamp mills and narrow gauge railways.
We like Silverton, so we've decided to postpone our departure by another day. We'll spend Saturday much as we did today, just looking around and maybe doing some small hikes, before moving on to Mesa Verde.