We've moved on from Bryce Canyon to Kanab UT for a few days. It's time to resupply the ship and do some serious work.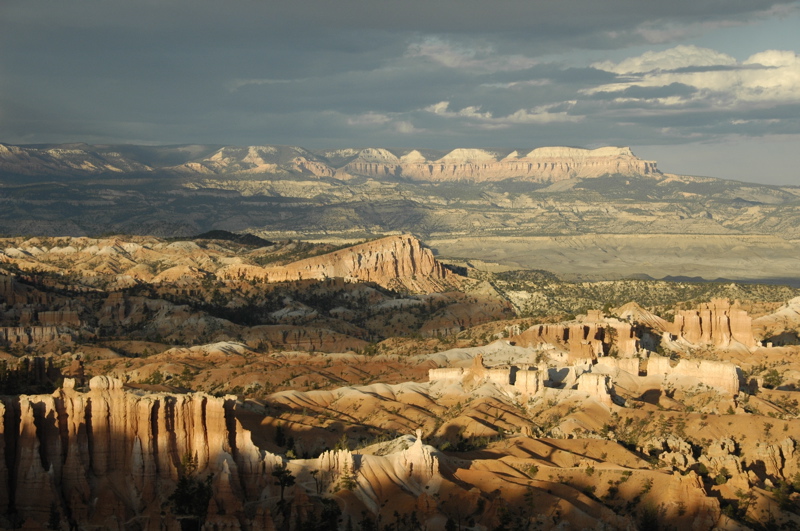 Our last hike in Bryce yesterday was terrific, and I'll have photos uploaded to Flickr soon. But there's no getting away from the fact that the park is crowded. We rarely had solitude, which we've come to expect often in other national parks. We would have had to hike many miles from the rim to get the sort of peace that is available in abundance at less popular parks.
Looking at the park service's report on 2007 visitation yesterday, I was curious to see some of the least-visited parks that we've been to. Given that we like quieter places, I was wondering which ones we've missed.
Turns out we've missed a lot of them. Of 360 parks in the report, the least-visited one we've been to is Fossil Butte National Monument (Wyoming), ranked #314 overall with 19,853 visitors. I remember that visit well. Emma got a lot of attention from the rangers, and only a handful of people walked into the visitor center while we were there. It was also memorable for the broken lug stud later that day.
Hovenweep NMON in Utah ranks #305 in the list. We loved that place for its solitude, the unique Ancient Puebloan ruins, and the beautiful campground.
Before we started full-timing, we visited St-Gaudens National Historic Site in New Hampshire (#303), and I remember parking our 1968 Airstream Caravel on the grounds (there's no camping) for the afternoon. It's a nice site, attributed to a famous artist, but slightly obscure.
Vermont's only national park is Marsh-Billings-Rockefeller National Historic Park. Until a few years ago, we didn't even have that one, and the only slim presence of the park service was the Appalachian Trail. We've visited it several times. It's ranked #296.
Ft. Laramie NHS (Wyoming) is #286. This is a great piece of western expansion history and worth the small detour to visit. If you're already wandering through Wyoming you're off the beaten path, so why not explore a few miles further?
Gila Cliff Dwellings NMON (New Mexico) is #284. We visited it when Eleanor was very pregnant with Emma, in early 2000, making it Emma's first national park. The ranger who guided us was extremely concerned about Eleanor's condition, since she was in that point of the pregnancy where she looked somewhat like a kangaroo. But we were the only people on the trail that morning and so we got a very personal guided tour, up and down the ladders of a cliff dwelling.
We'll be making a point of seeking out some of the less-visited sites in the future. Tomorrow we are planning to spend part of the day at Pipe Spring NMON (#277), only about 35 miles from Kanab. When we get back to Tucson, we'll finally make a trip to nearby Tumacacori NMON (#280), too.
Looking through the list, I see "the ones that got away," and now I'm sorry we passed them by. When we went up to Scotts Bluff (Nebraska, #214) we made a decision to skip Agate Fossil Beds (#332) because it was hard to get to and there weren't any facilities. In all the years we lived in the Boston area, we never once visited Saugus Iron Works NHS (#348). Last fall when we were in Montana we skipped Grant-Kohrs Ranch NHS (#321), which was a shame. Bert Gildart even mentioned it in an article in Airstream Life a couple of issues ago.
Well, you can't see them all, although some people are trying. In Great Sand Dunes we met a guy who was up over 200 parks so far. He'd been at it for decades. He even bagged some very remote and hard-to-reach parks, such as the National Park of American Samoa, Dry Tortugas NP (Florida), the Virgin Islands parks, most of the Hawaiian parks, and all of the Alaskan parks. He was seriously dedicated to the task, even to the point of tracking new national parks that have been proposed so he can plan visits.

Collecting the National Parks Passport stamps at every park has been something we've been doing since 1997. It's a great way to keep momentos of your travels in a cheap and portable format. The ink stamps are free, and since there are hundreds of them, you can collect for a long long time. Some people feel rather passionate about it and go to extraordinary efforts to hit as many parks as they can. We're taking a more measured approach, just visiting the parks as we see the opportunities. Still, with all this time traveling, we've accumulated 110 stamps so far.
More surprising to me is that we have absolutely no stamps from the "National Capitol Region", which includes Washington DC. That's the easiest place in the world to collect stamps because of all the national park sites clustered in the District. We've been there many times, but for some reason I always forget to get the dozen or so stamps that can be found there.
After my photo collection, the battered blue Passport book is my most prized souvenir. I recommend that anyone who likes visiting national parks buy this inexpensive book and start collecting the stamps too. Each one reminds me of a great time in a great place, and without this book I would probably forget the dates of our visits. Big or small, every national park has been a place we'd like to remember.