Last night we once again were able to sleep with the windows open. It has been balmy and breezy, with sounds of the ocean at night. Emma slept to nearly 11 this morning, so she's either in a growth spurt again or she's really getting worn out with all the activity. I love camping near the sea.
I can tell people are getting in the rally spirit, even though the offical start is tomorrow. The awnings and grills are out everywhere. People are having happy hours at 4 pm all over the campground. Sociability is just breaking out all over the place. From here on in, I expect to be overfed all the time. Brett kicked things off with some chocolate fudge cookies after lunch, and chocolate ice cream bars after dinner. ("But they are non-fat!")
Today, Brett and I geeked out. We bought a Linksys wireless range extender (model WRE54G) and experimented with using it to connect to the campground wifi at long distance. See, usually when we get to a campground with "wifi at every site" I can't actually access it inside the aluminum shield of the Airstream. With the range extender, I hope to amplify the signal so I can access it inside the trailer.
So we made a minor spectacle of ourselves as we marched around the campground, plugging the range extender into various power outlets to test the range of the device. At one point we even had it mounted on a flag pole. Our tests were not conclusive but so far things look good, so I'm going to keep it for further testing at another campground.
Eleanor and Emma spent half the day at the beach again, and this time Eleanor came back with a marvelous swimsuit-patterned sunburn on her back. That'll be a souvenir she won't soon forget.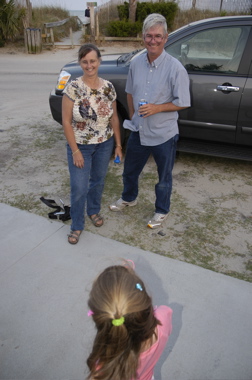 This evening before we headed out for a round of mini-golf, we had a visit from blog readers David & Denese Lee. They are parked just down the way from us. We are hoping to be able to courtesy park at their place in North Carolina someday.
It's been another beautiful day in Myrtle Beach. And now, at 10 pm, I'm paying for it with a couple of hours of work at the computer. It's a good trade.