From Las Vegas it's about 100-150 miles to Death Valley, depending on which way you go. But regardless, it's a long lonely road through hills and desert, with only a few outposts along the way. We tanked up in Las Vegas before we left at the best price around, $3.05 per gallon, because it certainly wasn't going to get cheaper as we went into the desert. We stopped again later for a 10 gallon top-off at $3.19 per gallon … and I was glad because as we arrived in Death Valley, the only gas station had somewhat higher prices…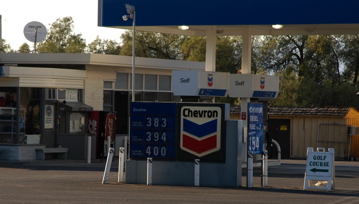 Since our last visit to Death Valley in 1997, the park service has cut a deal with the local Native American tribe, the Timbisha Shoshone. They now have a private area in the heart of the valley near Furnace Creek, nearly 200 feet below sea level. It's a tough place to live; not much water, and excruciating heat all summer.
We were lucky to get relatively mild temperatures. When we arrived it was in the low 90s, but we knew it would get hotter the next day, so we picked out a campsite in the Furnace Creek campground that was partially shaded. The idea is to have a spot where both solar panels would get full sun most of the day, but the tamarisk trees would shade half the trailer in the late afternoon.
You're probably thinking, "Hang on — no hookups in that campground?" Yes. That means no air conditioning. So we expect that our two Fantastic Vents and plenty of solar power will be the keys to survival. The forecast for tomorrow is 100 degrees. Even tonight it's not going to cool much. At 10 pm, as I write this, it is still well into the 80s. Death Valley doesn't cool off at night much. The surrounding mountains trap the warm air. That's one of the reasons it is so hot here.
But it is beautiful. The views and wildlife are everywhere. During the afternoon we spotted a coyote wandering by. At sunset we were able to walk around and spot dozens of bats catching their dinners in the red dusk of sunset. I am sure, despite the heat, we will have a good time.