First official day of the rally has been mostly nice … Creede is an interesting old mining town with a historic downtown butted up again towering rock walls. We took Rich C into town and did some exploring.
There's a lot for such a small community: a historical society, a museum, hotel, general store, "self-service B&B", a dozen or more shops, a lot of rental cottages, and "the best doghouse in Creede." We went to the dog house and got some bratwursts for lunch.
From downtown you can drive a few miles up into the former mining country and see abandoned mines everywhere. We were told the rockhounding was good, so we took the drive.
In 15 minutes of hunting we found some colorful stones and a lot of rocks flecked with iron pyrite (Fool's Gold). Eleanor and Emma are planning to head up again tomorrow to do some real searching. Emma wants to find a piece of fluorite.
The road makes a grand circle up into the mountains to well over 10,000 feet, and then winds down with views of Creede and our campground.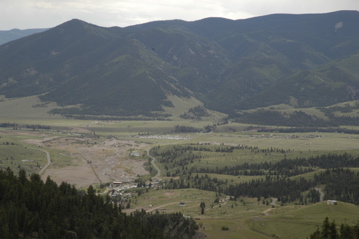 This evening's rally events were great, too. Tonight was the chili dump, a notorious event where everyone brings a portion of homemade chili and it all gets mixed into a big pot and served. It came out pretty well …
It's a shame that the evening had to end on a bad note. When we returned to our campsite, after dark, we found our new friends and next-door neighbors pulling their vintage Airstream out of their campsite. They had only arrived this morning. I was told that the campground management was rude to the mother over some minor issue, and their 13-year-old daughter spoke back, saying "You can't speak to my mother like that." The management, unable to deal with a 13-year-old, evicted them on the spot.
We've been here only one day and it has become obvious that this campground is not family-friendly. Every child attending the rally except Emma has had a run-in with the management. The campground is busy selling long-term leases for campsites (reportedly for $60k!) and apparently would prefer that children not be part of the scenery.
The transition to leased campsites is not attractive anyway. Rich C was bitched at by some busybody "owner" (lessee) for pulling up in the wrong spot while registering for his site. I (and several other people) got lectured for using a "private" walkway alongside the campsites. Some of the people who are buying lots here have crossed the line from happy campers to possessive fools. If that's what "campsite ownership" turns people into, I'll never do it.
Our other Airstream neighbors are leaving tomorrow — three days early. Even though they don't have kids, they no longer feel comfortable staying here. I am wondering if we'll be next. We would hate to leave the rally, but ethically we are caught between supporting our friends who put a lot of effort into organizing the rally, and disagreeing with the policies of the campground management. One thing is certain, I cannot recommend the Mountain Views RV Park in Creede Colorado to anyone with children, and if you don't have children, be sure not to set foot on an "owner's" campsite.