We are done at Airstream. Today was highly productive, and it's a fitting end to a long week. The guys in the shop took our trailer in and did the best they could at hiding the damage where the wheel came off.
Here's a shot as the trim was being removed. The aluminum side sheet was stretched as it was bent by the wheel coming off. This meant that bending the aluminum back would have only fair results. But the alternative was removing the side sheet — a complex job that involves removing several access doors and part of the entry door. I think Airstream estimates this job at about 40 hours of labor.
I decided I didn't want to put our trailer through that trauma. Also, we'd have to stay for several days to get it completed, and file an insurance claim with our $1000 deductible. It wasn't worth it for a simple cosmetic problem. So I asked the guys to do the best they could without removing the metal, and they did.
Here's the result:
You can still see the wrinkle in the aluminum, but the new trim and a bit of caulk help minimize it. Also, we have the new aluminum wheel in place (which means we also have a spare again!) I think I'm going to have to do some cleaning on the trailer to get all my wheels to look this good.
We also got a few other items fixed, like a couple of broken latches and a faulty plumbing vent under the bathroom sink. Overall, there wasn't much to be done. I told the guys in Service and some representatives of the manufacturing facility how impressed I was with the way our Airstream has held up through 30,000 miles of towing in the last 10 months. They told me, "People really appreciate their Airstream when they use it!"
I didn't get to go through the factory on this visit, for lack of time. Photos and videos are no longer allowed on the factory tour anyway. But I have posted a bunch of photos of the factory from my visit in May 2004, on the Flickr photo album.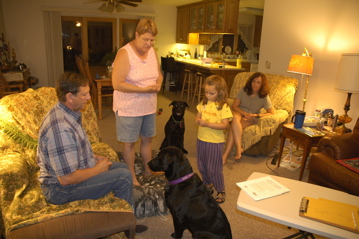 Now we are in northeastern Ohio visiting our friends Larry and Lou. We've courtesy parked in their driveway twice before (with Vintage Thunder, our 1977 Argosy), and they always make us feel at home. Emma is learning how to work with the dogs, Zora and Diega, to do tricks, and Eleanor is talking with Lou about homeschooling, since Lou is a former schoolteacher.
Tomorrow, we will begin the last big push across OH, PA, and NY states toward home …