Home at last. We are parked, temporarily, in the driveway of one of our longest-term neighbors. Mary L happens to have a nice straight long driveway and she was happy to lend it to us tonight so we wouldn't have to go searching for a campground. I grew up two houses away from here, and lived on this street from 1966 through 1981, so courtesy parking my Airstream at the neighbor's house really is a new twist on "coming home."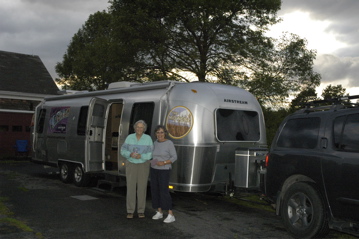 Mary L and my mother greeting the Tour of America
Emma is having a long-awaited sleepover with her grandmother tonight. Eleanor and I are preparing for a lot of tasks we need to complete while we are in Vermont: car inspections, maintenance, dumping unneeded stuff into storage, selling off furniture, cleaning the Airstream, checking on friends, etc. We will be very busy, I expect.
Along the way here we came up I-87, the NY State Thruway, which comes up from Albany into the Adirondacks. I had forgotten how hard it can be to find gas in the Adirondacks, and made the mistake of exiting the highway onto Route 8 near Horicon with only 1/4 tank left. Thus began our unintentional empirical test of the gas gauge's accuracy …
I have not had the occasion to test the gauge below about 1/8 of a tank during our ownership of the Armada. However, I have been in this situation before with our prior tow vehicle, a Honda Pilot. The sinking realization that you are on perhaps the last gallon or two of fuel, and making headway at only 10 MPG is bad enough. But when you are in a place known primarily for trees, lakes, mountains, and remote villages — on a Sunday afternoon at 5 pm — in the rain — in a place where cell phones do not work — the sinking feeling turns into a stomach-churning nightmare.
Turning around on a twisting Adirondack road with a 30-foot trailer is not often an option. There wouldn't be any gas behind us, anyway. Garminita's database of gas stations has proved to be unreliable, so she wasn't much help. I began to drive more carefully, touching the brake minimally, slowing down, coasting wherever possible. Mentally I began reviewing the procedure to follow if the engine suddenly sputtered and quit (power steering and power brakes would fail, but the trailer brakes would still work).
One option we have always reserved for emergencies is to park and unhitch the trailer roadside, then go get gas. Without the trailer, our fuel economy doubles, which could make all the difference. I was getting ready to do that after we passed through Horicon, Brant Lake, and Hague without spotting an operating gas station, and the fuel gauge passed below the "E" indicator.
The little orange "low fuel" light was on for over fifteen miles, and our level of despair was peaking, when we spotted an unexpected pair of gas pumps in a dirt lot next to a small campground. It was the sort of impossible gas station approach that I would normally bypass (uphill, two sharp turns), but in this case I was pleased to be gouged at a price about $0.40 per gallon more than what it would cost just 10 miles away. I bought three gallons, maneuvered very carefully to escape the pumps, and drove on to Ticonderoga to fill up at a more normal price. Between the two stations we bought 25 gallons.
So now we know: the gauge can go below the empty mark in this truck. The tank is rated for 28 gallons, but I would not dare to conclude that we had three gallons left. I think it more likely that the pumps shut off early. Now that we've "tested" the gauge, I hope never to cut it that fine again.