We are definitely getting somewhere with the divestiture process. One of our storage units is now only about 1/3 full, and the other is running about half full. Today the director of the local Humane Society came by to buy our Cuisinart and we ended up donating a bunch of stuff that the Humane Society can use, like pillows, blankets, towels, and garden hoses. (No, the Cuisinart is not for work purposes …) After Saturday, when half of the bedroom furniture is scheduled to go away, we should be able to consolidate the two storage units.

Two weeks ago this was packed to the ceiling!
And just in time! We are scheduled to leave here on Friday October 6. It's getting cold at night. Our first freezing nights will likely come in the next 10 days. This is approximately when we would harvest the pumpkins, back in the days when we had a big garden.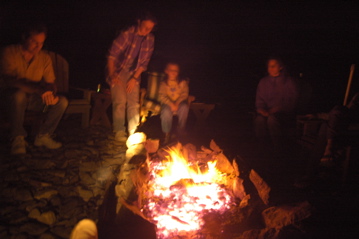 Last night we had what might be the last beach campfire of the season. I burned another box of personal papers — utility bills and closing documents from a house we bought in 1993. Eleanor and I had double Boca-burgers with cheddar cheese, while we all watched the sliver of an eerily red moon set over Essex NY, three miles across the open water of Lake Champlain. Spectacular!

Red crescent moon setting over Essex NY
A blog reader volunteered his business address for my Nigerian scammer, so I contacted the fake "Dr. Lilian Williams" and asked her to send the fake check for $2,500 to "my cousin in Virginia." So that deal is still on. Here's the latest:
THANKS FOR THE REPLY,YOU WILL GET THE CHECK SOON,AS SOON AS YOU GET TYHE CHECK,PLS LET ME KNOW SO THAT I CAN SEND THE INFORMATION ON WHERE TO SEND THE SHIPPING FEE TOO.
THANKS.
DR.LILIAN WILLIAMS
Uh-huh, sure … I won't be depositing that check. Depositing a fake certified check can land you in handcuffs. Meanwhile, the guy we gave the car to is planning to come over Saturday to pick it up.
By the way, these Nigerian scammers are notorious for hijacking the names of respectable people. In this case, there is a real Dr Lillian Williams (slightly different spelling of her first name), who is a professor at the University of Buffalo. She obviously has no connection to this pathetic attempt to rob me of $2,500.