Before leaving Barry's place yesterday, we did a simple upgrade that I've been planning for a while, to increase our storage.
Two-thirds of the space under the dinette seat is available as storage. But the rest of the space is sealed off. That's where some flexible ducting and the subwoofer are stored. The subwoofer made rude burps and grumbles at inappropriate times (between songs on the CD player, between menus on the DVD player) and I never liked it, so we've had it turned off for the past year. Yesterday, it got evicted.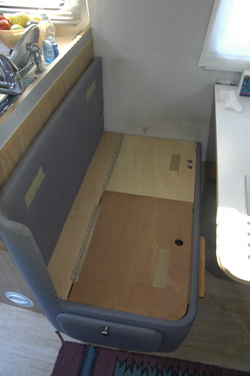 New storage under the lighter-colored top
After chucking the subwoofer, we had a fair amount of space. So Brett trimmed the top panel and cut two finger holes in it, and I re-attached it with some piano hinge. Voila! an extra storage compartment for little-used items.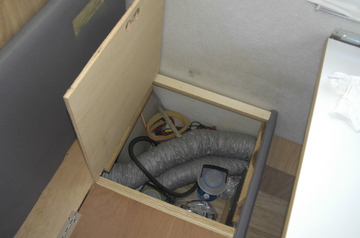 Plenty of space next to the furnace ducting
Our tow over to Bay Bayou was uneventful and now we are set up for the Thanksgiving week. Rich C is just down the row, and Bert & Janie are expected to arrive on Tuesday. I've also sent an invitation to our Internet friends Brad & Mary …

Brad and Mary atop Cadillac Mtn in Acadia National Park
…who are presently coming down the Natchez Trace and heading this way, but I think they are planning Thanksgiving somewhere near Mobile.
Bay Bayou is mostly filled with seasonal visitors, so we get to see some really elaborate setups at the adjacent sites. For example, our neighbors are here in a fifth-wheel complete with masonry patio and walkway, a gazebo, a little water feature, a golf cart, a three-wheeled motorcycle, full-size barbecue grill, plantings, etc. It's a completely different style from ours.
This morning we woke up feeling completely different. The trailer seemed different too. After some pondering Eleanor and I realized it was the air. The past week we were parked in the shade and it was a little damp at times.
At Bay Bayou we picked a sunny spot, and last night we ran the heat pump, which took the excess moisture out of everything in the trailer. When we woke up, it looked and felt like a desert morning with glorious sunshine streaming in the windows, vivid blue skies visible through the Vista View window, and dry air. Everything in the trailer felt crisp and clean. I'm looking forward to getting out to the desert again later this winter.