In St Petersburg there's a bit of old Florida called "Ted Peter's Smoked Fish". For forty years they've been smoking fish over red oak there, and serving the fish up with platters of German potato salad, coleslaw, thick slices of onion & tomato, mustard sauce and a dill pickle. It's a pungent taste treat that's a real relief from the "same old" restaurants.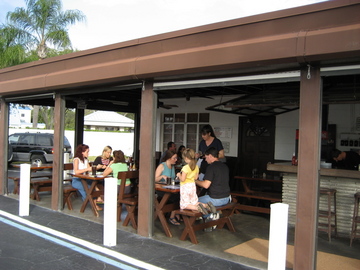 We went there last night with Brett. Eleanor and I split a smoked mahi mahi dinner plate and Brett got the smoked mullet. The portions are very big … Eleanor and I had leftovers from our shared dinner, but that didn't stop us from ordering the excellent Key Lime Pie to split with Emma.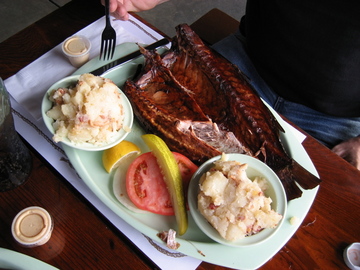 By the way, if you go to a Florida restaurant and the Key Lime Pie is green, or looks like meringue, or has the consistency of cheesecake, it's not right. The good stuff is tart, yellowish, and will absolutely amaze your tongue with its taste. Ted Peters has some of the best we've ever had. Since we are headed to the Keys next week, we'll have to see if we can top it. In fact, I could see turning this trip into a mission to sample the country's best Key Lime Pie …
We found Ted Peters last year courtesy of "One Tank Trips" by Bill Murphy. If you come to Florida and want to find fun things to do, check Bill's book.
It looks like another beautiful day in Tampa. The temperatures have risen and we are getting nice weather in the upper 70s and low 80s now. I wish I didn't have to spend so much time working at my computer, but at least with the windows open on the Airstream, and a gentle breeze blowing through, it makes for a nice day in the office.