We've parked in the day use area of Henderson Beach State Park while we wait for our campsite to open up. It's actually so nice here next to the roaring surf that we wouldn't mind just boondocking here for a few days if we could.
It's sort of a New England beach day, with overcast skies, a bit of fog, temperatures in the upper 60s, and a breeze. It may not sound ideal but it's really nice. The white sand and sea oats are gorgeous, and we've opened every window on the Airstream to let the salt breeze blow through. Eleanor is relaxing with a book, Emma is drawing, and I'm just poking around … it's a nice way to spend Saturday.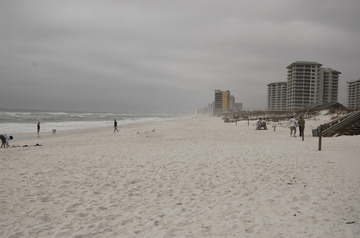 We'll be here all week, doing some exploring along the beach and in Destin. I'm curious about the telescope right next to us. Perhaps some local organization opens it up for public viewing? I'll check it out and see if we can get inside.
Some friends are coming here to join us in the next few days, so we'll do a little "pre-rally" stuff. At the end of the week we'll migrate over to nearby Topsail Hill State Park for an Airstream rally. Anyone who is coming to the rally a little early, consider dropping in and visiting with us!