Three faithful blog readers have emailed me to say I talk too much about food. (You know who you are.) So today I'll talk about water for moment. Specifically, how to deal with drinking water while we are in Mexico in March.
The big advice you get from people about traveling in Mexico is "don't drink the water!" Montezuma's Revenge, a.ka. "traveler's diarrhea" is the big fear. In most cases, it comes from drinking local water that has normal bacteria that our delicate US-based systems aren't accustomed to. It can also result from critters in the water (worms, parasites).
So the first line of defense for an RV traveler is to make sure the water in your fresh water tank is safe, for showering, brushing teeth, etc.
We've got a couple of methods to assure the water in our tank is safe. We can fill it with known good water (bulk bottled water sold in grocery stores), or we can pre-filter it with a charcoal filter to remove excess organic materials and then chlorinate the water each time we fill the tank.
Chlorination is pretty simple: you just add a measured amount of bleach to the water, and let it sit a prescribed time before using it. We'll use a second charcoal filter at the kitchen sink to help remove some of the bleach taste (which is already built into our Moen faucet) and also let the water sit before bottling it for the refrigerator.
Another good tip I got for masking the bleach taste is to add Kool-Aid, iced tea mix, Gatorade powder, or lemon/lime flavorings to the water. But most likely we'll just use the tank water for showering and stick to bottled water for brushing teeth, cooking, and drinking.
Beyond that, we'll follow the advice I got from my friendly Airstream M.D.: be careful about eating local fare or questionable grocery items, peel all fruit and avoid ice or open drinks. If we were going to stay for a long time and eat out a lot, we might consider Hepatitis A vaccination as well, but that seems to be overkill for a one or two week visit where we'll mostly be eating our own food.
Today's outing was to Living Desert State Park, up in Carlsbad. It's really more of a zoological park, featuring landscapes, animals and birds native to New Mexico. It's a nice spot on a sunny day, since the bulk of the exhibits are outdoors. For $5 (kids under 7 free), it's a cheap half-day out, and very educational. As with any zoo, a long lens is essential to getting good animal photos.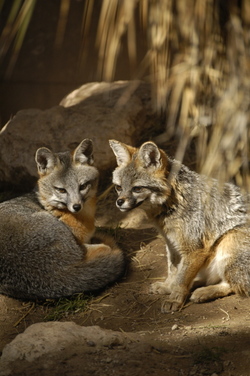 We would have gone to the caves, but weather suggested otherwise. It was a sunny and dry day today, perfect for walking around the park, whereas tomorrow we've got a chance of rain — or even snow. I doubt that will really happen, but in any case tomorrow seems the right day to explore the caverns. Then, we'll head southwest.