Last night when we got back to the motorhome we found Doug Rowbottom and Colin Hyde sitting outside in the dark under our awning, poking away at their laptops and using our open wi-fi signal. Colin came in for a while and ended up staying until 11:30 … and it had already been a long day … so today I slept in until 9.

Susanne Brown and Colin Hyde at the Vintage Club potluck dinner
Colin, poor bald guy, was not sufficiently aggressive with his sunscreen, and after two days at the beach with a baseball cap on, now looks somewhat like a lobster that was boiled with half its head out of the water. He has a good sense of humor about it.
Today was mostly a flurry of social events. Terry & Marie showed up in time to join Brett & I for the Florida Springs Unit lunch out at Linger Lodge. (Linger Lodge is an end-of-the-road fish camp and RV park that has a decent restaurant on the edge of a little river.)
We spent a chunk of the afternoon comparing stories with David & Denese Lee, Bill Reilly (the Health Chic husband), and others who randomly walked by until the all-important Happy Hour period began.
At every major rally I've ever attended, there's always a zillion Happy Hours. They start up all over the field, organized by intra-club, unit, common interests, Internet discussion groups, etc. If you can't find one to crash, you're just not trying. We dropped in on Hunter Hampton's first, which she holds at every rally for members of her Yahoo group, called "Airstream List". Then we headed off to the Vintage Airstream Club's potluck, which is large enough to need its own building.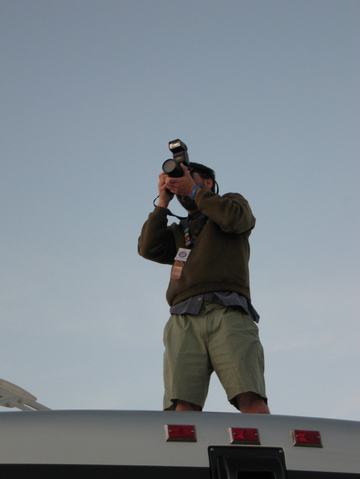 This evening I finally got on a roof to take a few shots of the rally grounds. This picture doesn't begin to capture the entire field, but you can get an idea. Plenty of rigs. I've had a bicycle to provide transportation for me all week but still haven't had a chance to tour every row.
Tonight I'll head over to the nightly campfire that Colin & Susanne light in a metal pit by their trailer, but try to get to bed earlier. Tomorrow is the big day, the Flea Market and then Vintage Open House, and those events will keep me very busy.