Last night when we got back from the campfire Brett commented that Sunday would be a good day to sleep in. But there was no chance of that. The crowd departs this rally early. At dawn we were awoken by the sound of rattling diesel engines, spouses calling to each other, the squeaking of awnings coming down and hitches being tightened.
I rolled over and managed to sleep to 8 a.m., then got up to watch the load-out. It's fun to see hundreds of Airstreams slowly ambling along the dusty fairground roads, before hitting the highway.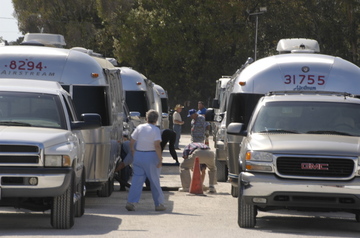 Before they get to hit the road, however, most stopped at one of the three dump stations at the fairgrounds. The line runs about 45 minutes at the peak time, which is between 9 and 10 a.m. By 11, the fairgrounds are mostly empty.
It turns out that Emma has a cold and so we have delayed her flight home from Vermont until next Sunday. Since I don't have any particular reason to run back to Tucson and have plenty of friends here, I also set my flights back a few days, so the blog will continue from Tampa until Thursday.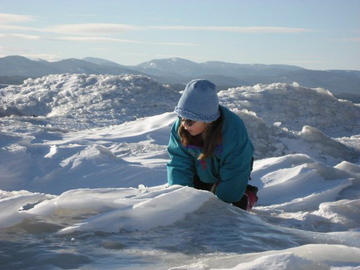 In the picture above Emma is by the frozen lakeshore, but Eleanor reports from Vermont that the ice on Lake Champlain has broken up. I like getting these pictures but each one makes me glad for the sunshine and swaying palm trees of Florida.