29 degrees at 8:30 a.m. / -71 amp-hours cumulative (43 amp-hours used overnight)
This morning I followed Bert and Janie on our first photo expedition. Our goal was elk but we didn't spot any for hours. We did see a lot of bison, which are everywhere. Here, a bull bison is using his tongue to help sniff the air for eligible females. The bison rutting season was earlier this summer, but he holds out some hope for a late bloomer.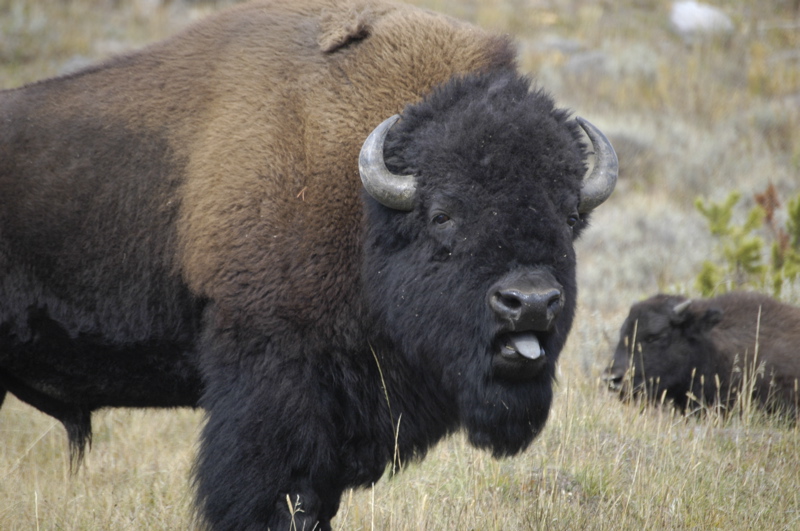 I followed Bert and Janie as far as Hayden Valley and then headed back to camp to take Eleanor out to see a few sights. Emma was deeply enthralled by her new friends and would have preferred to just stay at camp.
Of course, less than a mile from the campground (in the opposite direction we'd gone in the morning) we found a herd of elk calmly munching grass and moss and posing for pictures. This female elk is sporting a popular piece of elk fashion, a radio collar. Quite a bit of research goes on in this park.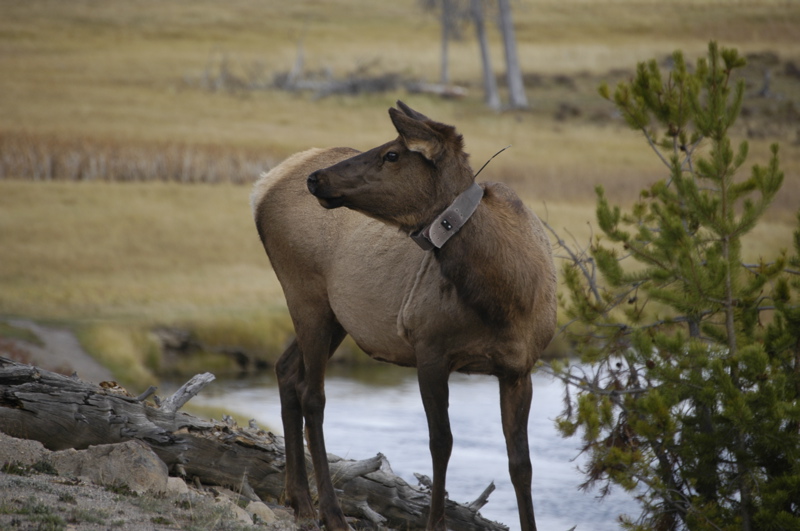 I have been reading a book entitled "High Endeavours: The Extraordinary Life and Adventures of Miles and Beryl Smeeton". This very honest biography seems a good companion to our traveling life. Miles and Beryl were incredible thrill-seekers and travelers. I can't do justice to the stories of their travels, so I'll just say that this is one I can recommend if you want an inspirational look into the minds of a pair of serious travel junkies. Their travels ranged from Beryl's 500-mile solo walk through the jungles of Burma and Siam during the monsoon, to several round-the-world sailings in their 46-foot yacht. The book is probably out of print but I found a copy through Alibris.
In order to avoid having to hitch up and tow the Airstream to the dump station, we are on extreme water conservation tactics. We are using the campground bathrooms most of the time (which are fortunately heated, although there's only cold water), and washing all dishes in the sink the campground provides as well. With this we should easily be able to last five nights without dumping or refilling our fresh water tank.
Our solar gain report for the day:
Partly cloudy. At 5 p.m. cumulative amp-hours were -45. 26 amp-hours gained.
Even with slightly more clouds than yesterday, we still gained about the same amount from the panels. Extrapolating, it looks like we will exit the park on Monday with the batteries down about 125 amp-hours, which is still within our safe limit. We'll be fine as long as the sun keeps shining.