Yesterday we met with 28 other Airstreams at the Camping World on I-40, and the entire line of aluminum caravanned together to the Balloon Fiesta Park on the north side of Albuquerque. From a gravel lot overlooking the Balloon Fiesta field, we will spend four nights watching all things related to hot-air and gas ballooning going on. This is our final blowout adventure of this season of travel.
The danger of attending the famous Albuquerque Balloon Festival is that you'll take too many photographs. Actually, it's inevitable. The balloons are so colorful and scenic that you can't stop at, say, 100 photos. I got up in the 5 a.m. darkness to scout a location for photos of the "Dawn Patrol," and by 8 a.m. I had filled a memory card with over 300 photos. Don't worry, you don't have to look at all of them. You can see some of them on Flickr by clicking here.
This is also an event designed to mess with your Circadian sleep cycle. Everything happens between 5:45 a.m. and 8:30 a.m., then again from about 6 p.m. to 9 p.m., when the winds are light. In between, there's little to see except the long row of merchants, arranged like a county fair, that runs next to the balloon launching field. If you try to be awake for everything, like we are doing, it means a nap in the afternoon is a really good idea. Normally that would work for me, but with all the socializing going on, I haven't been successful today.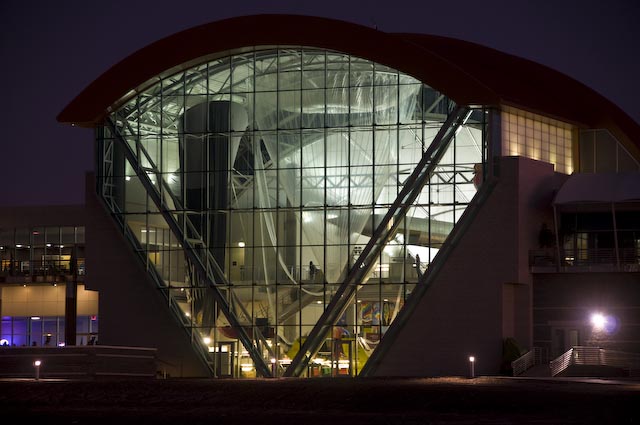 Balloon Museum, by Bill Ferry
The other hazard to successful sleep is generators. We are parked in tight rows. Behind us is a row of Country Coach motorhomes. In front of us are three rows of Prevost bus-based motorhomes ($1 million and up each). All of these motorhomes have diesel generators built into them, and the Balloon Fiesta allows very liberal generator hours, from 5 a.m. to 10:30 p.m. Even though those diesel generators are pretty quiet, we can hear them running for hours on end, and the fumes of diesel can be intense. We have to sleep with the windows and vents shut completely.
Emma linked up with Olivia, a 5-year-old girl who is the only other kid in our group. The two of them spent the afternoon building a robot (named "Rusty Sprockets") from paper, and then running the classic lemonade stand next to Olivia's trailer. They cashed in to the tune of several bucks and so tomorrow they want to try selling popcorn instead.
I've been surprised at the number of people here who say they've been following our blog. There seem to be many people reading it who prefer to remain anonymous. That's fine, but it makes me wonder what I will do to stay in touch after next week, when this blog will end. It's a subject of much debate in my mind right now.
Tonight the schedule calls for another balloon launch and some fireworks. The wind has picked up and the forecast is for rain tonight, so I doubt we will see any balloons taking off, but there will likely be a "balloon glow" at least. We may stay in and get to bed early. Tomorrow the schedule repeats, starting once again with 5:45 a.m. for those who care to get up. Those who don't care to get up will be up anyway, around the same time, when the generators all fire up to run coffeepots in the morning. So I have a feeling we'll all be ready to hit the sack by 9 p.m.