Things are turning around. The makers of our disc brake actuator, Active Technologies, came through promptly with some good news this morning. They have a few refurbished units which match ours, and put one in a box destined for delivery to us on Monday. This is better than getting the newer unit because it will be a direct-fit replacement and thus won't mystify the local RV repair shop quite as much.
With this happy news, we embarked fifty miles south to Tillamook. Our friend Gunny has been parked in Salem in his Airstream 25FB, patiently waiting for us to show up and visit. I was worried we'd be forced to skip past Salem by the ripples from this delay, so we invited him to meet us at the Tillamook Dairy.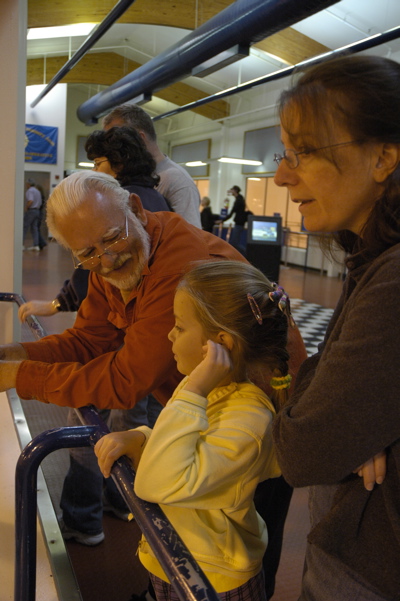 The dairy is the major attraction of Tillamook. Even now, in the off-season, the parking lot is busy with hundreds of vehicles coming and going all day. The Dairy is a cheese factory, with a casual restaurant and a couple of ice cream bars inside too. You can take a self-guided tour overlooking the production lines, which is fun for people from 7 to 60-something years of age, as we proved today.
There are a couple of other tours along this stretch of Rt 101, according to Factory Tours USA. These include Pacific Oyster, just a couple of miles north of Tillamook, and The Real Oregon Gift Myrtlewood Company a bit further north. We dropped in on Pacific Oyster but there's only an oyster shucking operation to see and the line was closed when we arrived.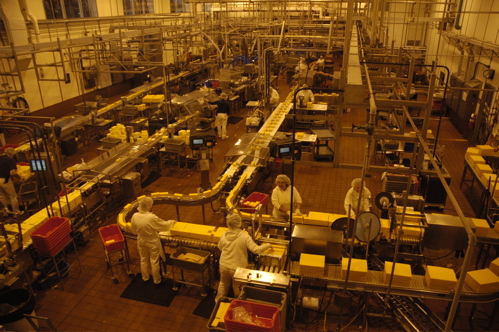 Route 101 is the real star of this trip. The road rolls and sways, dipping into cedar forest and then rising far above the ocean to reveal stunning views. It's like this all the way from here to Humboldt County in northern California.
Seaside Oregon is another little gem along this route. This town looks like just a strip mall from Route 101, but if you head west across the river at Avenue G, you'll find the Lewis and Clark Salt Works location neatly enshrined among a neighborhood of cute little shingled cottages. Park here and walk to the water. Seaside has a large flat beach insulated from the neighborhood by a deep barrier of sea oats, and it's really beautiful. In the early evening we found dozens of people crabbing in the low tide zone while the orange sun set cast reflections on the skim of water that still covered the sand.
Now it is starting to feel like there won't be time to visit all the things we want to see in this area. That's perfect. I'd much rather feel I left a spot a little too early, than feeling like I stayed too long.