Casino parking is popular among the RV crowd, almost as popular as Wal-Mart. Out west it seems hard to be more than 50 miles from an Indian casino these days, but we've never taken advantage of the many casinos that are RV friendly. The only other time was at Sam's Town Las Vegas, where they have an RV Park.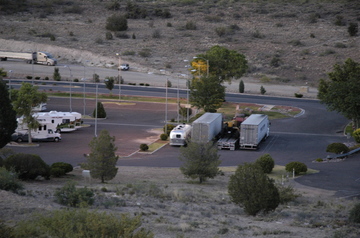 It's not that we don't like casinos, but mostly we've found better alternatives, such as quiet parks or scenic areas. In this case there were plenty of commercial campgrounds but since we are just parking, Cliff Castle Casino seemed suitable. The parking turned out to be fine and friendly. I sent in a report to Casino Camper so they could update their website about it.
We knew about this spot from our visit a year ago. You have to drive right past Cliff Castle Casino to get to Montezuma Castle National Monument. I wonder if the Indian frybread stand is still here?
Rich C is staying only about half an hour away from here, so he dropped by with his friend Sadie for a final visit before we head east. Sadie and Eleanor hit it off right away, finding common interests in a theory that (as far as I can tell) involves eating mass quantities of chocolate and red wine to prevent cancer. They even got online for a few minutes to study the molecular structure of some elements found in chocolate.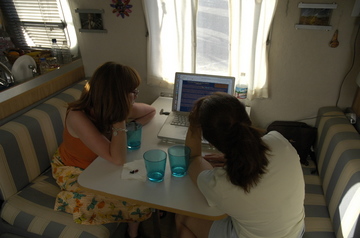 I picked this spot for the overnight stop because it was convenient to our route and the casino has family stuff, including bowling, which Emma loves. There's also a Johnny Rockets restaurant, which is the sort of place we only go as a treat when we are on the road. It helps break up the day of driving and put everyone in the right mood.
At only 3000 feet we haven't yet escaped the heat. It was in the low 90s all afternoon. But tomorrow will be a different story. Only about 40 miles up the road is Flagstaff, elevation 7000 — an entirely different climate zone. Even though daytime highs will be in the low 80s at the south rim of the Grand Canyon, the forecast is for near-freezing temperatures at night. We'll have to start carrying sweatshirts in the car again.